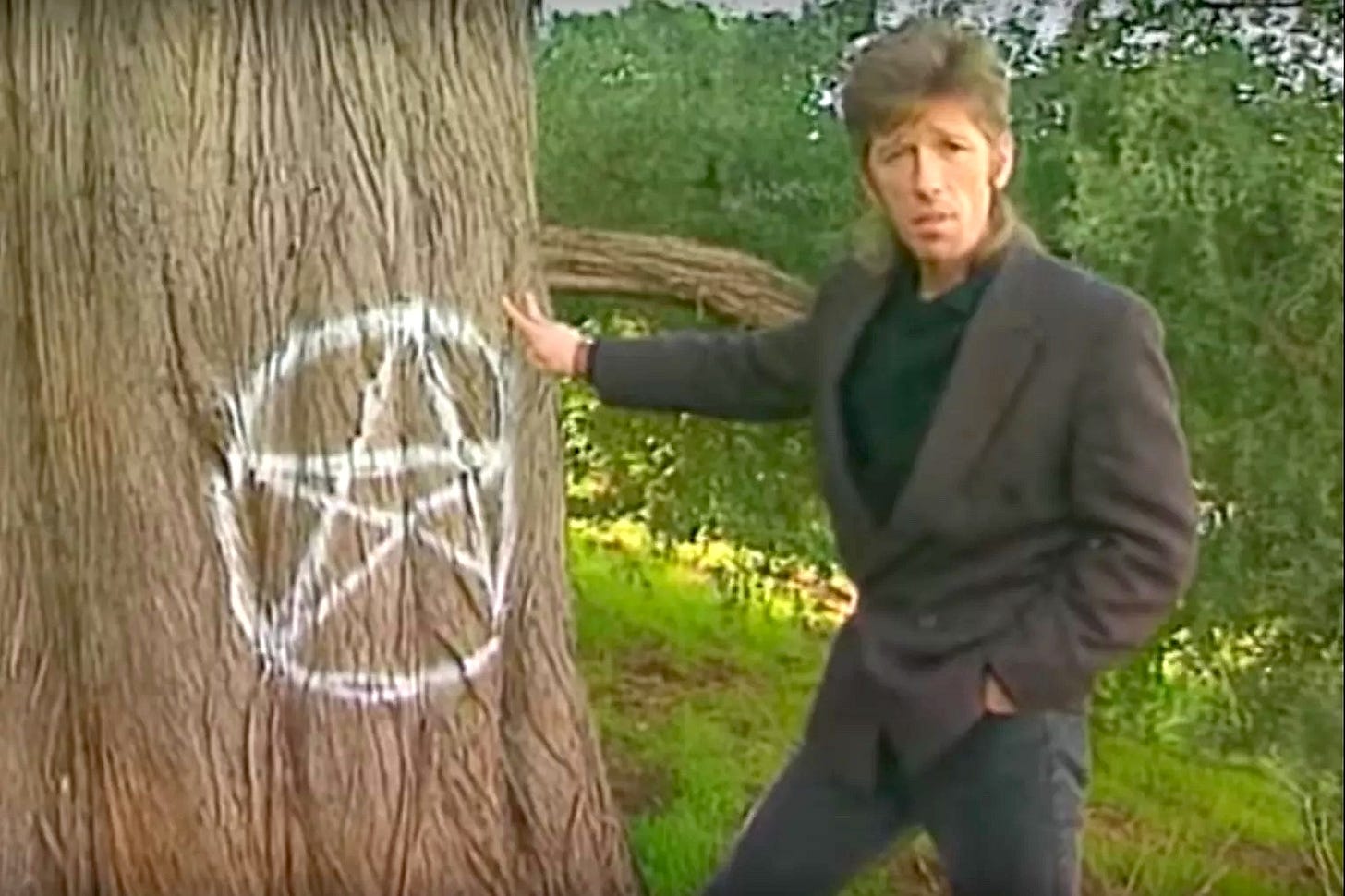 Hello friend,
Before we begin, please consider donating anything you can spare to The White Pube's food bank fundraiser, or alternately finding and donating to your local food bank.
Okay. While I appreciate that the above image along with this week's numbering might suggest some sort of overarching thematic coherence, I'm afraid that would require a degree of commitment and creative rigour that I'm just not willing to put in at this stage. However, there are nonetheless many good (or at least interesting) things to follow. Do any of the items below leave you feeling feelings? Let me know.
If you are a new subscriber, welcome.
Some things for you to read and watch and hear.
Contributions always welcome. Tell your pals.
MHx
---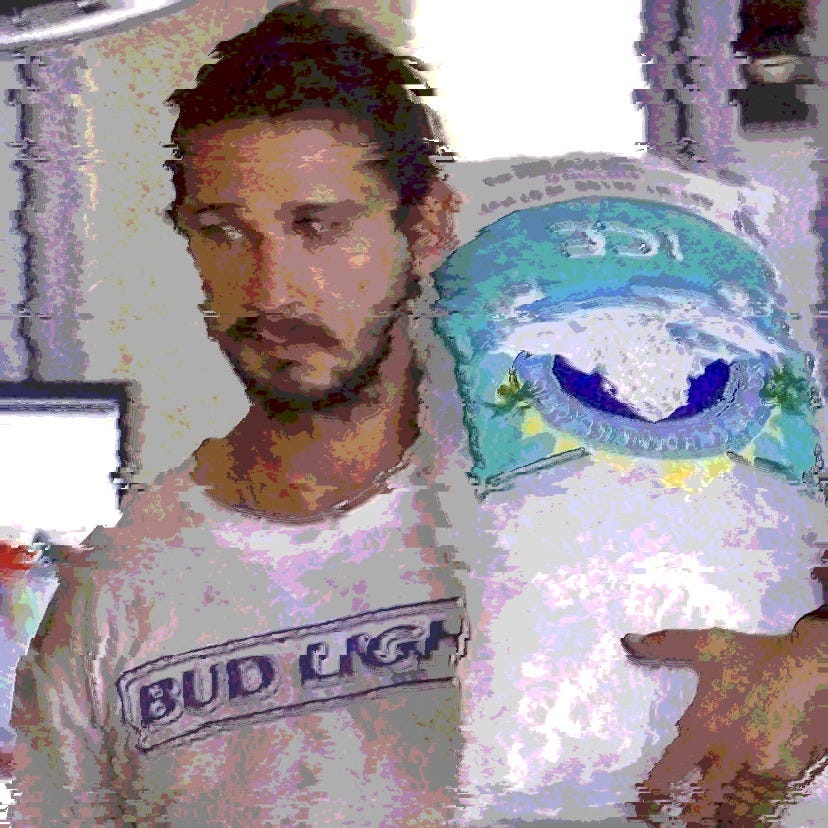 This week's transmission from Haruspex Radio essentially captures and distils the fascinating, chaotic, primal energy of noted performance artist Shia LaBeouf and serves it back up as 65 mins of slightly unpredictable sounds. Arabic pop to Japanese and Austrian jazz via Kesh chants plus murk and wonk as standard.
Haruspex Radio is a thing I made up the week before last which is already gaining a bizarre but happy momentum of its own. There are several more guest mixes incoming and I'm going to attempt to fill in the gaps myself, schedule allowing.
---
I really, really loved Tai Shani's talk on the occult feminist imaginary last week, which from start to finish felt like opening a door into a highly compressed world of weird, joyous, creative resistance. Lots of background on her recent work (including Semiramis which I was fortunate enough to stumble across one hungover morning at The Tetley in Leeds a couple of years ago) as well as psychedelic witchcraft, occult socialism, écriture féminine, trans-temporal solidarity, and a great deal more.
"Abolish all bosses."
---
Alexis Okeowo's profle of Saidiya Hartman for The New Yorker really pins down much of what is exceptional in Hartman's writing and thinking. The insufficiency of the archive and the frayed edges of speculative inquiry, history, fiction, and truth that border it really feel front and centre throughout, but the piece also pretty lucidly underscores what is at stake in Hartman's unique presence at those borders.
Look out also for a near-perfect quote from Arthur Jafa re Hartman's appearance in his video for Jay-Z's '4:44.'
---
Mute published Sophie Carapetian's powerful eulogy for David Graeber, which is essentially a brief but moving portrait of what it means to live as a revolutionary. It feels like a quiet privilege to read things like this amidst the relentless, stupefying churn of awful takes that comprises 90% of UK political discourse. Rest in power.
---
Can't help but feel a weird shimmer of respect for Mixmag for publishing DeForrest Brown Jr's sober and far-reaching dissection of the transatlantic dance music industry, the institutional pillars of which have spent decades overseeing the exhaustive extraction of value from techno and its derivatives, whilst simultaneously turning its legacy into fictions of 'discovery' for the 'white/European leisure class' at the expense of Black artists.
Brown pays appropriate attention to Mixmag itself (he reveals having once been fired after a brief and largely fruitless editorial stint) and the fact they have published it feels like a gesture of self-scrutiny that would probably have been difficult to imagine prior to this year. That it feels significant at all is obviously still fairly shitty in itself, but with other outlets continuing to set the bar so low I guess this is what exceptionality looks like right now.
Brown's Black Nationalist Sonic Weaponry (released this summer under his Speaker Music alias) also gets a hard recommend from me.
---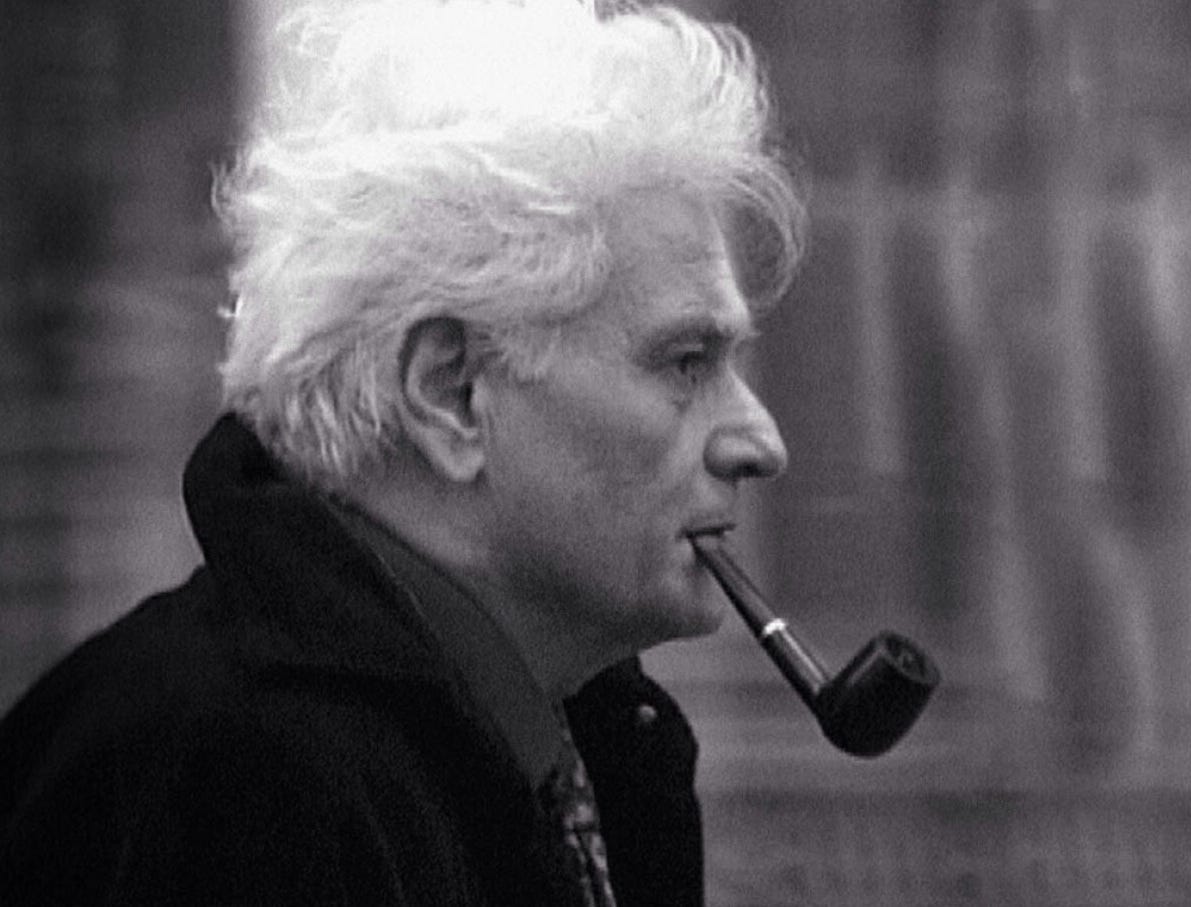 The Quietus published an excerpt from Peter Salmon's recent biography of Derrida in which JD recalls getting booed offstage after attempting a misjudged vocal improvisation with Ornette Coleman, and it's precisely as amusing as you'd imagine.
---
I have in my life been present at precisely one butoh performance. It took place in the corner of a small room in Kentish Town Community Centre before an audience of 10 or so, and without exaggeration I can say that I've never felt entirely the same since.
Last week I rented Butoh: Body on the Edge of Crisis, Michael Blackwood's documentary from 1990, which does a surprisingly decent job of making the practical and spiritual dimensions of butoh more accessible to dolts like me, not least the concept of Ma, an 'interval that gives form to the whole' or something like a generative negativity. Thank you, yes.
If you don't feel like stumping the cash for the restored version above, there is a low quality rip on YouTube. Intense and illuminating.
---
Linda Stupart and Carl Gent will be presenting a version of their play All Us Girls Have Been Dead for so Long via Zoom on 4 November, which will be welcome news for anyone else who (like me) very foolishly missed it at the ICA last year. Kathy Acker x Ecco the Dolphin x climate apocalypse.
---
The gift to the world that was Tusk virtual is now available to view in its entirety on YouTube. Whether you caught it live at the time or not, your viewing should definitely begin with the Arkestra set that opened the festival, and personally I am stoked to catch the bits and pieces I missed, especially MC Yallah, Dilloway on horror cinema, and Guttersnipe.
---
Okay pal, that is your lot. Until next time, bonne chance et bonne santé 👋
---